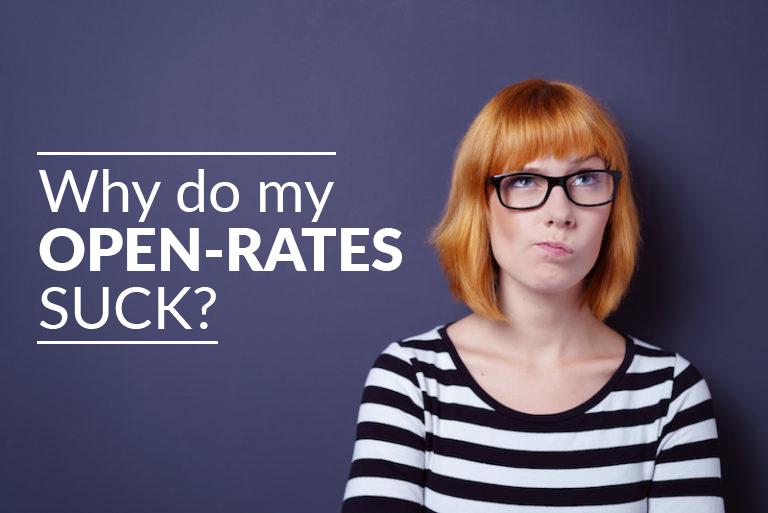 Like many marketers who use bulk email marketing, open rates can be a huge thorn in the flesh. We have all asked this exact question: Why do my open rates suck?
Well, let's step back a little.
There are actually several factors at play here such as:
Mobile Optimized – If your email doesn't read well on a user's device, they won't bother trying to decipher it.
Too Invasive and Pushy – If you've been emailing folks every day, they may be fed up with you and won't be as likely to open your emails if you've been making yourself an annoyance.
Timing – When did you send it? Most people don't open their emails as often on the weekend or on public holidays.
List Quality – Is this a solid, targeted email list? If your list isn't high-quality, it may reflect in your open rates.
Your Subject Line – This is your first (and maybe your last) impression on readers. In many ways, your email subject line is more important than your email body.
Yes, all these are important factors that can affect your open rate and we will be discussing each and every one of them individually, but in this article, let's focus on #5 Your Subject Line. For us, your subject line is arguably the best chance of you improving your open rate. We will be sharing with you several tips on writing effective subject lines that work.
Tip 1: Keep it Simple
There's a lot to be said for minimalism. Readers need you to be clear and concise in your subject lines, as time is always an asset. A study done by MailChimp found that short, descriptive subject lines have a much better reception than cheesy lures. Here are a few examples:
• Here is What You Have Missed
• We Have Received your Order
• Get Your Discount Code Here
As you can see from the examples, these subject lines are short, concise and direct, giving your recipient a simple update or notification regarding a certain activity, order status, etc. If your email has a specific purpose, your subject line should reflect that as well.
Tip 2: Humorous
Humor can really stand out. Your target audience or recipients receive tons of emails everyday and a well-placed joke can give you that extra edge you need to make you stand out among the rest. If you know your audience, using humor that they can relate to will earn major reputation points with people on your wavelength. Some funny email subject line examples:
• Since we can't all win the lottery…
• Deals That Make Us Proud (Unlike Our Cousin, Jeff)
• Do Web Developers Dream of HTML5 Sheep?
These lines can bring out a chuckle and will be understood by most readers, but not to all. Make sure when using a humorous approach, you still remain somewhat relevant to your recipient.
Tip 3: The List
Many of the factors that make up a good blog post title also make a good email subject line. Incorporating numbers into your subject line attracts attention, as our brains are naturally drawn to digits. This tends to be why top 10 lists are so successful. Some good examples:
• 3 Ways to Improve Your Email Marketing Open Rates
• 10 Secrets of Effective Sales Closing
• 7 Most Annoying B2B Sales Tactics
Lists are easier for our brains to process and they create curiosity, in addition to providing the promise of a quick and easy read.
Tip 4: Scarcity Tactics
Almost every advertising agency uses scarcity as a selling technique and yes, it does work. Experienced marketers who are heavy into cold emailing can agree that scarcity is one of the most used strategies out there. Throw in some well-placed words and you may be surprised how your click rates will improve.
• Ends Today! 24 hour sale – Hurry this is your last chance.
• Only 5 slots left! Our webinar on effective sales has 5 slots.
• Pay 1.99$ for a full access (48 hours remaining).
Email subject lines threatening scarcity (limited time offer!) tend to perform well, and this language is also common practice with squeeze pages.
Conclusion
The most important tip to keep in mind when you're creating email subject line is who your audience is, and what action you want them to take.
Are you trying to make a sale? Offer a promotion? Or are you just reaching out to your subscribers? Your final goal will determine what info your subject line should include. Be clear about the value of your email and what it means for your subscribers.
By following the key tips outlined above, you can start exploring email subject lines to find what works for your audience. Simply analyze what is effective and what is not, and you will be on your way to engaging your prospects with genius subject lines.
For more tips on creating effective subject lines, check out our eBook on B2B Outbound Email Marketing here!